The cover of
Torn
is beautiful and it is the second book in this series following
Switched
.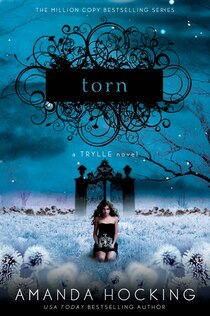 Amanda Hocking is an indie publishing sensation whose self-published novels have sold millions of copies all over the world. Step into the world of the Trylle, and prepare to be enchanted….

When Wendy Everly first discovers the truth about herself-that she's a changeling switched at birth-she knows her life will never be the same. Now she's about to learn that there's more to the story…

She shares a closer connection to her Vittra rivals than she ever imagined-and they'll stop at nothing to lure her to their side. With the threat of war looming, her only hope of saving the Trylle is to master her magical powers-and marry an equally powerful royal. But that means walking away from Finn, her handsome bodyguard who's strictly off limits…and Loki, a Vittra prince with whom she shares a growing attraction.

Torn between her heart and her people, between love and duty, Wendy must decide her fate. If she makes the wrong choice, she could lose everything, and everybody, she's ever wanted…in both worlds.

As a special gift to readers, this book contains a new, never-before-published bonus story, "One Day, Three Ways," set in the magical world of the Trylle.
Wendy is a Princess of the Trylle (Trolls), who was switched at birth to be raised by humans. Growing up she knew that she was different, always feeling like an outcast. I don't think that her mother trying to kill her at age seven made it any better.
In the beginning of this book, Wendy finds out her real father is not dead,as mentioned by her real mother. He is also the one person on earth who would kill a fly for making too much noise flying around. There is a great story and some history in this book, but you also get to see the beautiful story of Wendy's mother acting with love and showing true weakness.
Torn
was basically about Wendy having to choose between love or duty; I wouldn't know what to do. I loved
Torn
because of the battles Wendy fought; not only her own inner turmoil, but also the person she is in love with, the person she is to marry, her mother and on top of all that; her people.
I know this review is a little short but I truly want you all to read the book, without me giving anything away. It is a story that will touch and break your heart, if you let it.
This book is everything and nothing I expected. I was not disappointed at all, which is why I gave it 5 Stars. I cant wait to read Ascend! The covers are so beautiful, I believe they match the stories perfectly.